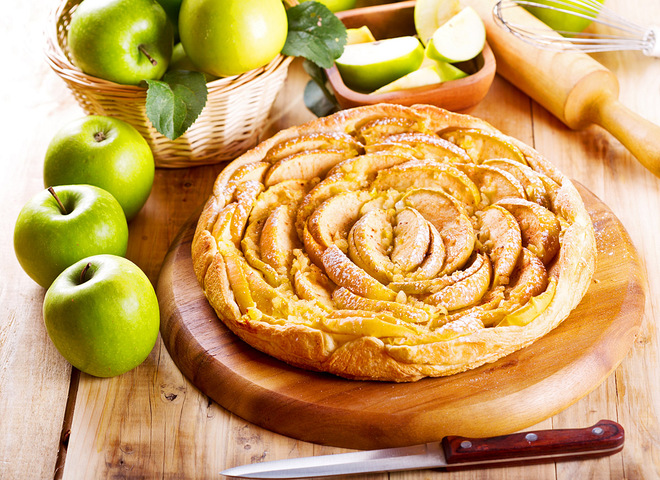 How to prepare a simple vegetable pastry, sweet and tasty, with delicious and vitamin filling, read on in our article.
When, during Great lent, want something tasty, and the nuts and dried fruits have to be fed, you come to the aid of Lenten cakes. A sweet shot of Apple pie flavored will instantly lift the mood and also have to the table, if for a Cup of tea to you looked girlfriend.
Preparing this cake is a snap, made from unleavened dough, and the result in your table you receive a real culinary masterpiece – a very dressy vegetable pastry, sweet, delicious Apple rose with a Golden crust.
Vegetable cakes: sweet Apple rose
Sweet Apple rose – ingredients:
for the dough:
200 g flour,
100 g sugar
10 g of vanilla sugar,
120 ml vegetable oil,
100 ml of water,
a pinch of salt,
for the filling:
1 kg of apples,
120 g of sugar,
1 teaspoon of ground cinnamon.
Lenten cakes. Sweet Apple rose cooking
For a start, make the dough for the vegetable cakes. Mix sifted flour with sugar and salt. Pour vegetable oil, ice water and mix it well.
Knead the dough. The consistency of the batter should be not friable, not liquid and plastic. If necessary, add more flour.
Wrap the dough in plastic wrap and send in the refrigerator for about 30-50 minutes. With cooling it becomes more elastic.
Prepare sweet fillings for pastries vegetable. To do this, wash your apples, Obasi, cut into thin slices and clean from seeds.
Chilled dough roll out and spread on a greased vegetable oil a baking pan, forming a small bumpers. On top of the dough lay out the Apple slices in the shape of flower petals, lightly pressing into the dough.
Send Apple pie in a preheated 180°C oven for 20 minutes.
Mix the sugar with the cinnamon. Get the cake out of the oven, sprinkle the top with the mixture, and again send in the oven until Golden caramel brown.
After about 10 minutes vegetable pastries sweet Apple rose ready. Let it sit 10 minutes and serve. Lenten pastries sweet Apple rose is delicious both hot and cold.
Bon appetit!