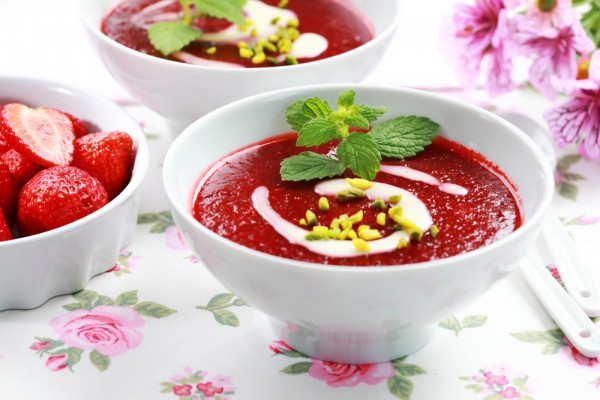 Cook summer dessert soup with strawberries. The absence of heat treatment allows to preserve the maximum benefits of fresh berries.
Ingredients
sweet ripe strawberries: 1 kg
fresh lemon juice: 2 tbsp
sugar: 1 tbsp
honey: 1 tbsp
rose water: 1 tsp
fresh orange juice: 1/4 Cup
mint, pistachios and whipped cream: for filing
Cooking time: 90 min | servings: 4 servings
1. Separate a quarter of the most beautiful strawberries. Cut each berry into several pieces and mix in a large bowl with 1 tablespoon of lemon juice and sugar. Cover and chill for 1 hour.
2. Fold remaining strawberries into blender and blend until the consistency of coarse puree. Add remaining lemon juice, orange juice, honey and rose water. Beat again and allow to cool.
3. Serve the soup garnished with the delayed strawberry, mint, pistachio nuts and whipped cream.